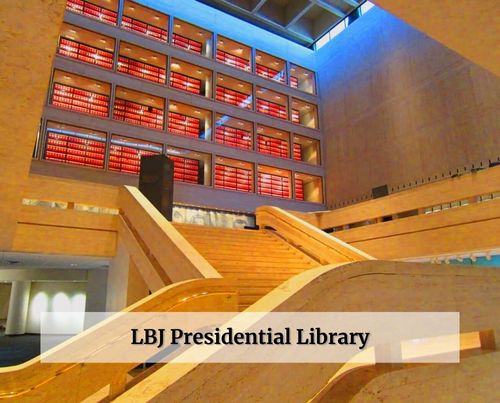 The LBJ Presidential Library, located in Austin, TX, is a fascinating and thought-provoking destination for anyone interested in American politics and history. The library is dedicated to the life and legacy of Lyndon B. Johnson. It houses an extensive collection of documents, photographs, and artifacts that provide an in-depth look at Johnson's presidency, as well as his personal and professional life. Visitors can explore numerous exhibits, including the Oval Office replica, the Civil Rights exhibit, and the Vietnam War exhibit, among many others. The library also hosts special events, lectures, and film screenings related to American history and politics.
The LBJ Presidential Library is more than just a museum; it is a living, breathing institution that seeks to educate and inspire visitors to engage with the past, present, and future of American democracy.
Explore the LBJ Presidential Library: A Tour of History and Culture
As one of the most iconic presidents in American history, President Lyndon B. Johnson has left an indelible mark on Austin, Texas. His presidential library and museum offer visitors a unique look into both his life and legacy. Taking a tour through the LBJ Presidential Library is like taking a step back in time; it's filled with artifacts, documents, photographs, and videos that bring to life Johnson's accomplishments during his tenure in office.
The exhibits at the Library provide insight into how he shaped civil rights legislation and changed society for future generations. You get to see some of his personal belongings as well as view interactive displays that illustrate how he impacted many aspects of American culture, from foreign policy to domestic affairs. In addition to these displays, there are also oral histories from people who knew him personally or had firsthand experience working with him during his presidency. 
The LBJ Presidential Library serves not only as a repository for historical materials but also provides an opportunity for you to gain a greater understanding of this remarkable man and what he accomplished during his lifetime. From exploring the political landscape of mid-20th century America to getting up close and personal with artifacts that show you more than just facts—it's an experience unlike any other.
Discover the Impact of President Johnson's Legacy on Austin
The LBJ Presidential Library is a unique place to explore the legacy of President Johnson and the impact it had on Texas. From his time as Senate Majority Leader to his presidency, this library offers visitors an inside look at how he shaped both Texas and America. In addition to learning about his accomplishments, you can also uncover stories behind some of his most important decisions during that time period.
You will be able to explore archives containing documents related to President Johnson's policies ranging from civil rights legislation to foreign affairs initiatives. You can see artifacts such as awards he received while serving in office or items gifted by other world leaders during state visits. There are even interactive exhibits that allow people of all ages to learn more about the history of the nation during this time period through hands-on activities.
This library serves as not just a historical monument but also an educational resource for those looking for information on LBJ's life and work in Austin and beyond. Whether you're a student researching presidential history or just someone curious about what made him one of the most influential presidents in modern times – there's something here for everyone.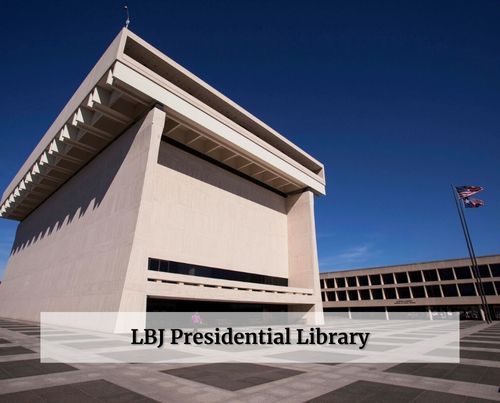 Uncover the Stories Behind LBJ's Presidency at the Library
Stepping into the LBJ Presidential Library in Austin, TX, is like taking a step back in time to uncover the stories behind Lyndon B. Johnson's presidency. From his humble beginnings as a Texan farm boy to becoming one of America's most influential and impactful presidents, there's no shortage of inspiring tales here.
The library offers an array of exhibits and artifacts that help bring President Johnson's life and legacy to life. You can explore interactive touchscreens highlighting key moments from his time in office; walk through galleries featuring original documents, photographs, and audio recordings; view films about his presidency; or even take part in live programs with experts who will answer questions about LBJ's accomplishments.
LBJ was known for being a leader who was unafraid to challenge the status quo, and he wanted everyone – regardless of their background or race – to have equal access to opportunity. This commitment is reflected throughout the library, which aims to educate you on important civil rights issues such as education reform and voting rights legislation while also celebrating American history with displays honoring those who served the country during World War II and the Vietnam War periods. Read the full info here
The LBJ Presidential Library provides an invaluable source for understanding how this nation has changed over time — not just through its vast collection of documents but through its dedication to preserving President Johnson's legacy so that future generations can learn from it too. It's definitely worth exploring if you're ever looking for an educational experience that will leave you inspired.
LBJ Presidential Library-Related Information
• Address: 2313 Red River St, Austin, TX 78705, United States
• Phone: +15127210200
• Website: www.lbjlibrary.org
• Business Hours: Monday to Sunday (9 AM–5 PM)