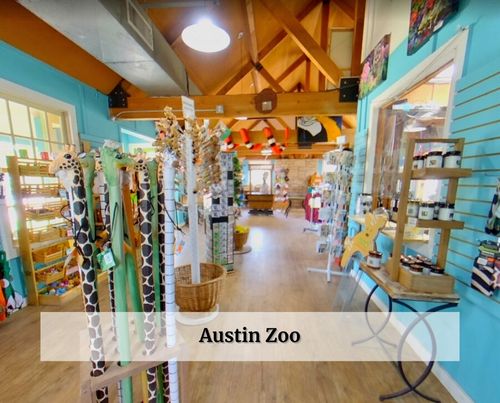 The Austin Zoo, formerly known as the Good Day Ranch, is a non-profit rescue zoo located in western Travis County, Texas.
The zoo was founded in 1990 by Pat and Jackson Liston and is dedicated to providing a safe and natural habitat for animals that have been abandoned, injured, or saved from being euthanized.
The Austin Zoo initially started as a sanctuary for farm animals and quickly evolved into a wildlife sanctuary.
Today, the Austin Zoo is home to over 300 animals from over 100 species, including exotic and native species such as monkeys, lions, tigers, bears, reptiles, and birds. The zoo is also involved in conservation efforts and works to protect endangered species through breeding programs and habitat preservation.
Key Features of Austin Zoo
You can expect a variety of activities, including animal encounters, animal shows, and educational programs. The zoo offers guided tours, animal feedings, and animal presentations that give visitors a chance to learn about the animals and their habitats. The zoo also has a playground, picnic areas, and a gift shop where visitors can purchase souvenirs and educational materials.
In addition to its focus on wildlife conservation and education, the Austin Zoo also strives to promote environmental awareness and sustainability. The zoo uses renewable energy sources and has implemented a number of eco-friendly practices, such as recycling, composting, and reducing water usage. Visit This Link
Did you know that the zoo is open year-round and is a popular destination for families, tourists, and school groups? With its beautiful natural setting, educational programs, and commitment to wildlife conservation, the Austin Zoo is a unique and valuable asset to the Austin community.
Things to Do While Visiting Austin Zoo
The Austin Zoo is a non-profit animal sanctuary located in Austin, Texas. Some of the amenities and activities that visitors can expect at the zoo include:
Wildlife viewing: The zoo is home to a wide variety of animals, including big cats, primates, reptiles, birds, and more. Visitors can walk through the different exhibits to see the animals and learn about their natural habitats, behaviors, and conservation efforts.
Animal encounters: The zoo offers several animal encounters, including up-close visits with small animals like parrots, lemurs, and kangaroos. Visitors can also purchase tickets for feedings and other interactive experiences.
Guided tours: Visitors can opt for guided tours of the zoo, led by knowledgeable and experienced staff who will provide insights into the animals and their care.
Gift shop: The zoo has a gift shop where visitors can purchase souvenirs and merchandise, including animal-themed items, books, and other items related to wildlife conservation and animal care.
Picnic areas: There are picnic areas throughout the zoo where visitors can enjoy a meal or snack.
Play areas: Children can enjoy play areas with swings, slides, and other equipment.
Education programs: The zoo offers educational programs for all ages, including classes, workshops, and camps. These programs are designed to promote an understanding of wildlife and its habitats and encourage conservation efforts.
Should You Visit Austin Zoo?
Visiting Austin Zoo provides several benefits, including:
Wildlife Education: Austin Zoo provides a unique opportunity to learn about various species of animals, their habitat, and their behavior, helping to raise awareness about wildlife conservation.
Fun for the Whole Family: With its family-friendly atmosphere, Austin Zoo is a great place to spend quality time with loved ones and create lasting memories.
Outdoor Activities: The Zoo provides a peaceful and natural setting for outdoor activities, including picnics, bird watching, and hiking.
Support for Conservation: By visiting Austin Zoo, you support their mission of wildlife conservation and rehabilitation, helping to preserve the earth's biodiversity for future generations.
Stress Relief: Spending time surrounded by nature and animals can be a great way to reduce stress and improve your overall mental health.
Exercise: Austin Zoo is a large park with walking trails and plenty of opportunities for physical activity, making it an ideal place for exercise and staying fit.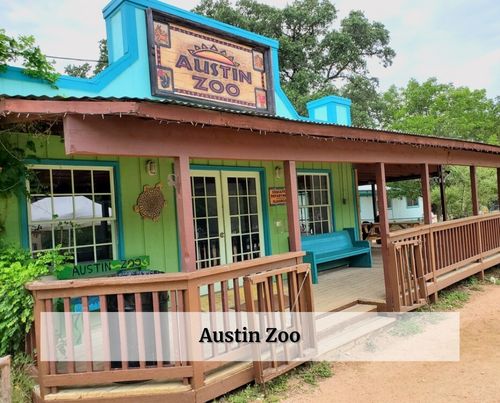 Overall, visiting Austin Zoo is a fun and educational experience that can provide numerous benefits for visitors of all ages.
Today, the Austin Zoo is a popular destination for families, tourists, and animal lovers. It offers a variety of exhibits, educational programs, and events for visitors to enjoy. The zoo also has a petting zoo, picnic areas, and a gift shop. It is a unique and exciting destination for those interested in learning about and interacting with a wide range of animals.
How to Get There?
You can access Austin Zoo by various modes of transportation, including personal vehicles, taxis, rideshare services, and public transportation. The zoo is located at 10808 Rawhide Trail, Austin, Texas, 78736.
If you're driving, you can park your car in the zoo's parking lot. If you prefer public transportation, you can take the Capital Metropolitan Transportation Authority (Capital Metro) bus route# 331.
Taxis and rideshare services like Uber or Lyft are also available in Austin, and you can book a ride to the zoo through their respective mobile apps.
Important Information You Should Know
Address: 10808 Rawhide Trail, Austin, TX 78736, United States
Website: http://www.austinzoo.org/
Phone: +15122881490
Business Hours: Open daily (9:30 am-4 pm)